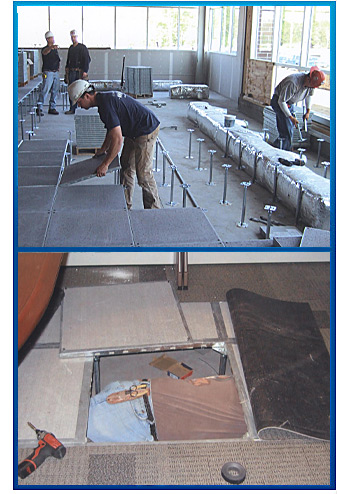 Great spaces begin at the ground level. TecCrete Access Flooring by Haworth, Inc., can help your company create a GREAT SPACE – providing unlimited creative opportunities, easily adaptable utilities and a highly sustainable environment.
Its unique concrete and steel composite make TecCrete amazingly quiet and solid underfoot. What's more, TecCrete's superior durability and full range of static dissipative and conductive finish options make it the right choice.
TecCrete is 100% reusable and can be easily reconfigured for a longer life span. With the wiring underneath the floor, it is easily accessible should your office/workplace have changes in staffing or duties.
Thinking GREEN? – then think TecCrete! Its manufacturing process raises your building sustainability. It creates an efficient, healthy environment. Manufactured fully in the U.S., TecCrete is produced in 1SO-9001:2000 conditions and is 14001 certified (zero land fill facility).
Produced in Kentwood, MI, production is within 500 miles of approximately 50% of the U.S. population. TecCrete floors are GREEN CERTIFIED by SCS.
Combining TecCrete with under floor air can play a key role in LEED Certification, contributing more than 20% LEED points. In addition, combining TecCrete with under floor air can reduce energy costs by 5% to 30%. Under floor air distribution, using swirl diffusers, provides occupant controlled airflow for greater comfort and even temperature control.
Finally, combining TecCrete Access Flooring with under floor air distribution can reduce the vertical space needed for ductwork (up to 80%). This increases the overall height of the wall available for glazing, while reducing the overall weight of the building.
Haworth TecCrete Access Flooring – 100% U.S. made – Indoor Advantage Gold Certified.