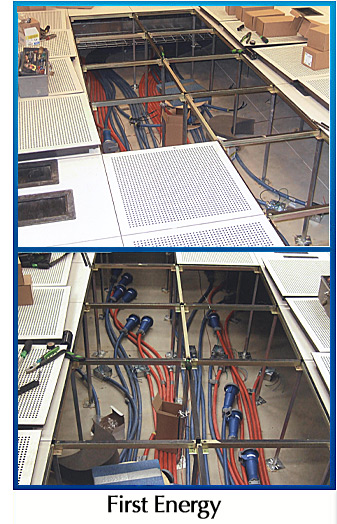 TecCrete covered panels have a range of strength ratings with concentrated load ratings of 1,250 lbs., 1500 lbs., 2000 lbs. and 2,500 lbs. All strength ratings have a proven performance, worldwide, for more than 25 years. TecCrete is also the greenest access floor product in America, manufactured in a zero landfill plant with 58% recycled content from material regionally sourced in cities throughout the Midwest.
TecCrete covered is a great solution for computer and server rooms because it is covered in standard Nevamar anti-static laminate in 1/16" or 1/8" thick. Other finishes, such as Flexico vinyl static dissipative or conductive are also available. Our panels can be equipped with an Air-Seal held in a stringer system bolted to the pedestal heads. Some panels can be high performance Air Flow type with a true 23.6% open area at 0.1 inches water gauge pressure that produces 14% more CFM than similar manufacturers perforated panels. The concentrated load on the airflow panel is 1,250 lbs., with superior load capacity.
The TecCrete covered is a strong, quiet access floor that feels rock sold underfoot, unlike ordinary steel access floors!